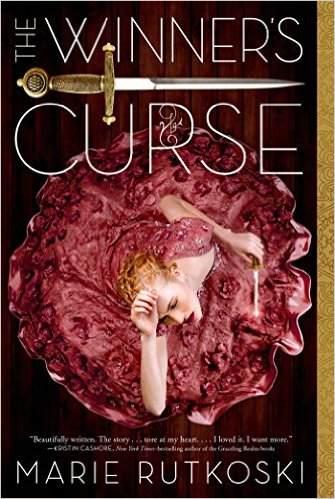 Guest Post by Mia
Seventeen-year-old Kestrel lives in an empire where adulthood offers only two choices: get married or join the military. Her father, a general, expects her to choose the latter path, while certain eligible young men hope for the former. Kestrel desires neither.
One day while wandering the markets, she gets swept away bidding at the slave auction and impulsively purchases a young man with defiant eyes. Despite their resistance, the two find themselves falling in love before long. The only problem is, not only is Arin a slave, he is a Herrani, the people the Valerians conquered not long before they met.
The Herrani still remember what it was like to be their own masters, and Arin has a secret and a simmering anger that may result in Kestral's downfall….
Excerpt:

They thought that if she wanted the slave, he must merit the price. There must be a reason to want him too.
"Fifteen!"
And the delicious mystery of why made one bid top the next.
The slave was staring at her now, and no wonder, since it was she who had ignited this insanity. Kestrel felt something within her swing on the hinge of fate and choice.
She lifted her hand. "I bid twenty keystones."
Both Kestrel and Arin know that any sort of relationship between them is doomed to fail. They try to resist their feelings, but it doesn't really help. However, while they may be in love, it doesn't mean that they are willing to throw away everything for the sake of that love. Kestrel may not agree with her people's militaristic tendencies, but she isn't about to condemn them utterly for it. Arin hates the Valerian for what they did to his people, but if he falls in love with Kestrel, does this mean that he has to forgive them?
The first in a trilogy, The Winner's Curse examines the dynamics between the conquered and the conquerors, as well as the politics of a militaristic society. The Valerian have a strong military, but not much else. Once they started conquering, there wasn't really a reason for them to stop, but more than that, with the military as the center of their culture, do they even know how to stop? Are they capable of existing peacefully? The Herrani had their homeland and their freedom stolen, but does that give them the right to slaughter Valerian civilians?
Minor violence, attempted assault, and kissing included.
---
Recommended for ages 13 and up
Lexile: 680
ISBN (paperback 2014): 9781250056979
---