ALEXANDRIA IS DESIGNED TO EMPOWER LIBRARIANS
Your passion is educating students, our passion is giving you the tools to do just that.

---
MONTHLY UPDATES
Let Alexandria do the hard part with automatic updates and upgrades.

---
CUSTOM REPORTS
You decide what, when, and how you like your reports, and Alexandria does the rest.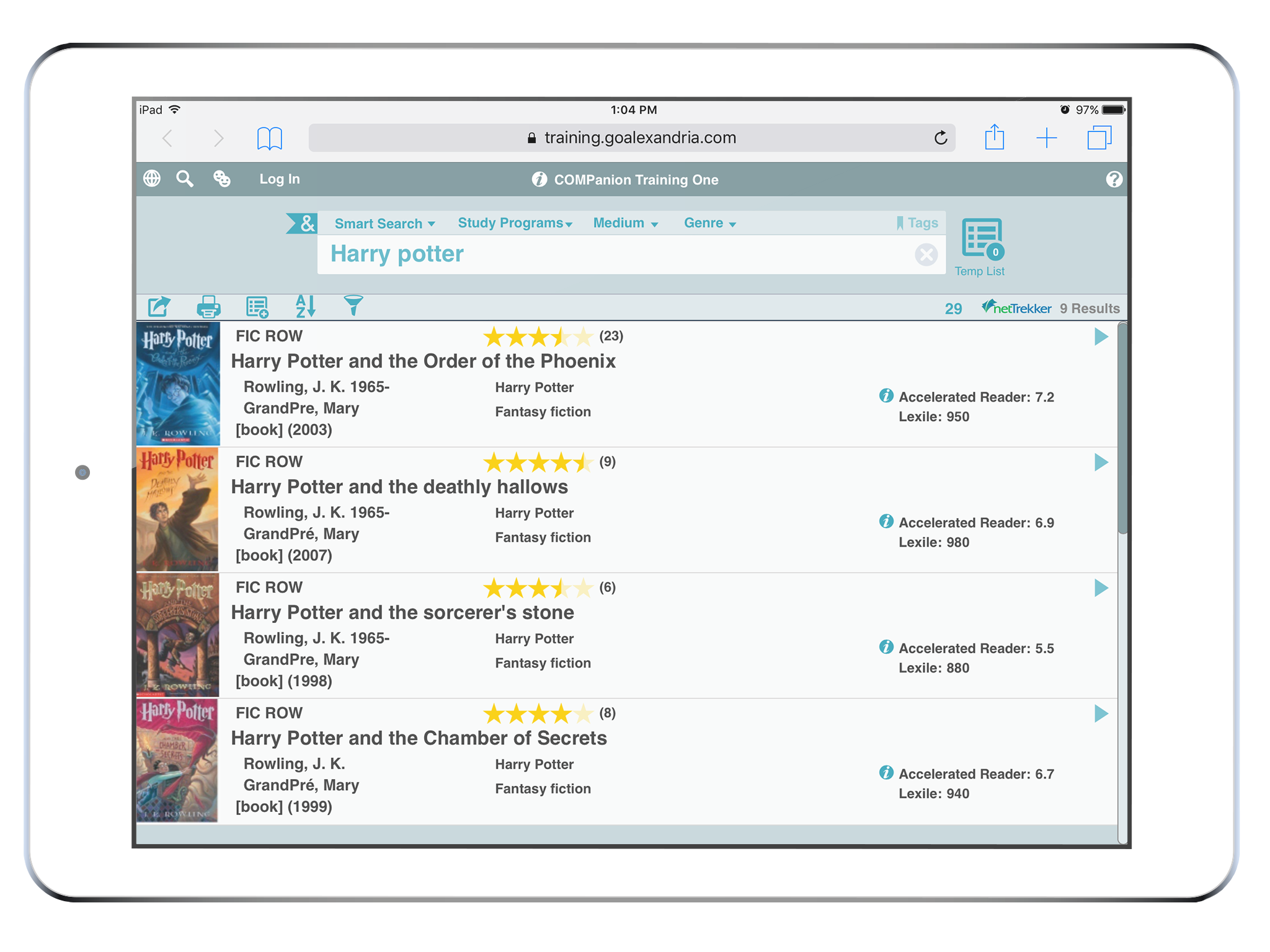 SEARCH INTERFACES
---
Having your collection readily available for your patrons is most important. After all, this is one of the main reasons library automation software is available. Alexandria's Search interface offers fun, interactive searching through icons, or by simply putting a search term in and using our powerful Simple Search tool. Come and see how your library can open your collection up to your users.
---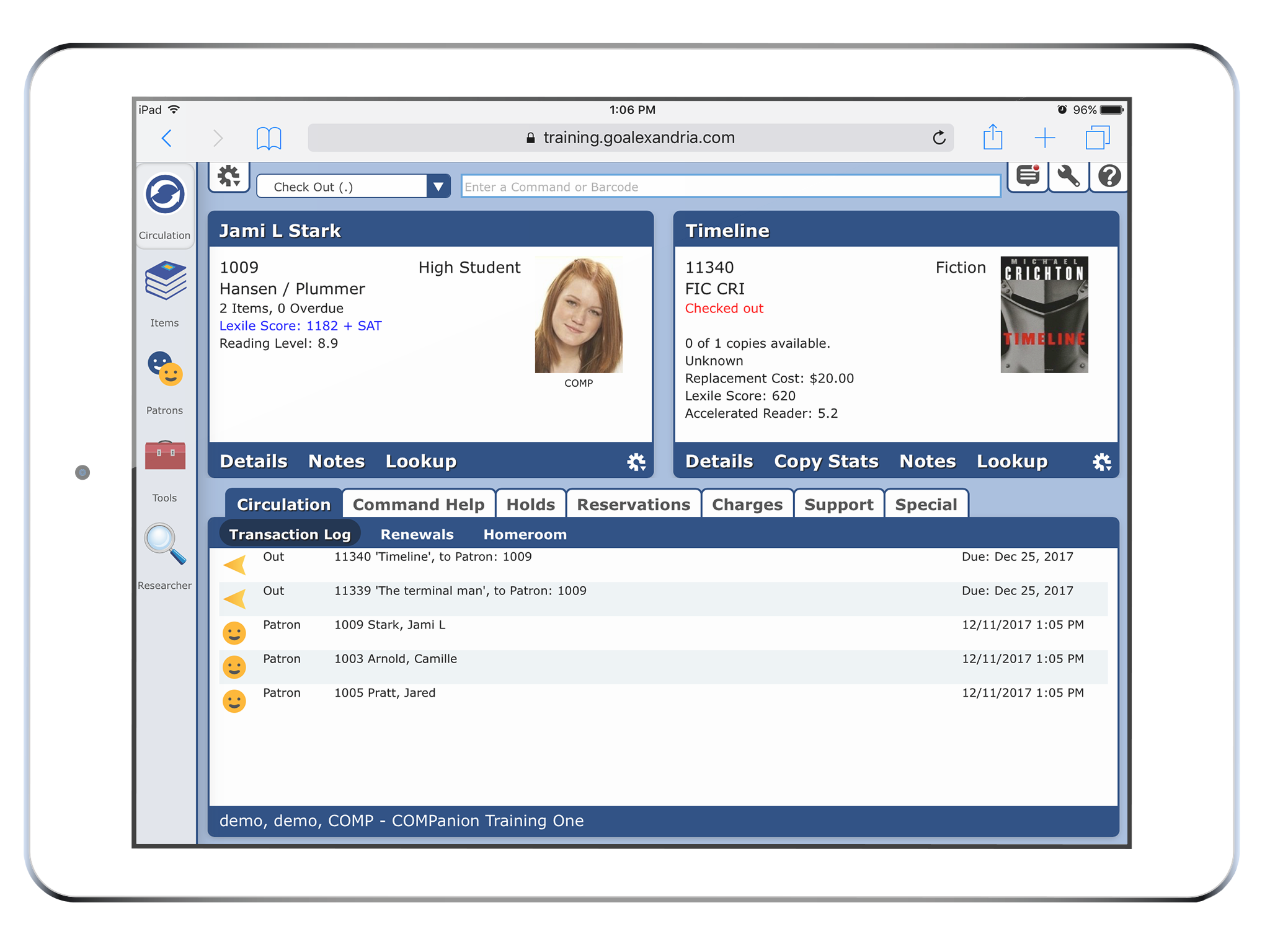 QUICK CIRCULATION
---
Alexandria offers a robust, seamless circulation interface that allows you to handle all of your transactions without skipping a beat. Whether you're checking books in, placing holds, or weeding, you can do this quickly and efficiently in our user-friendly Circulation interface.
---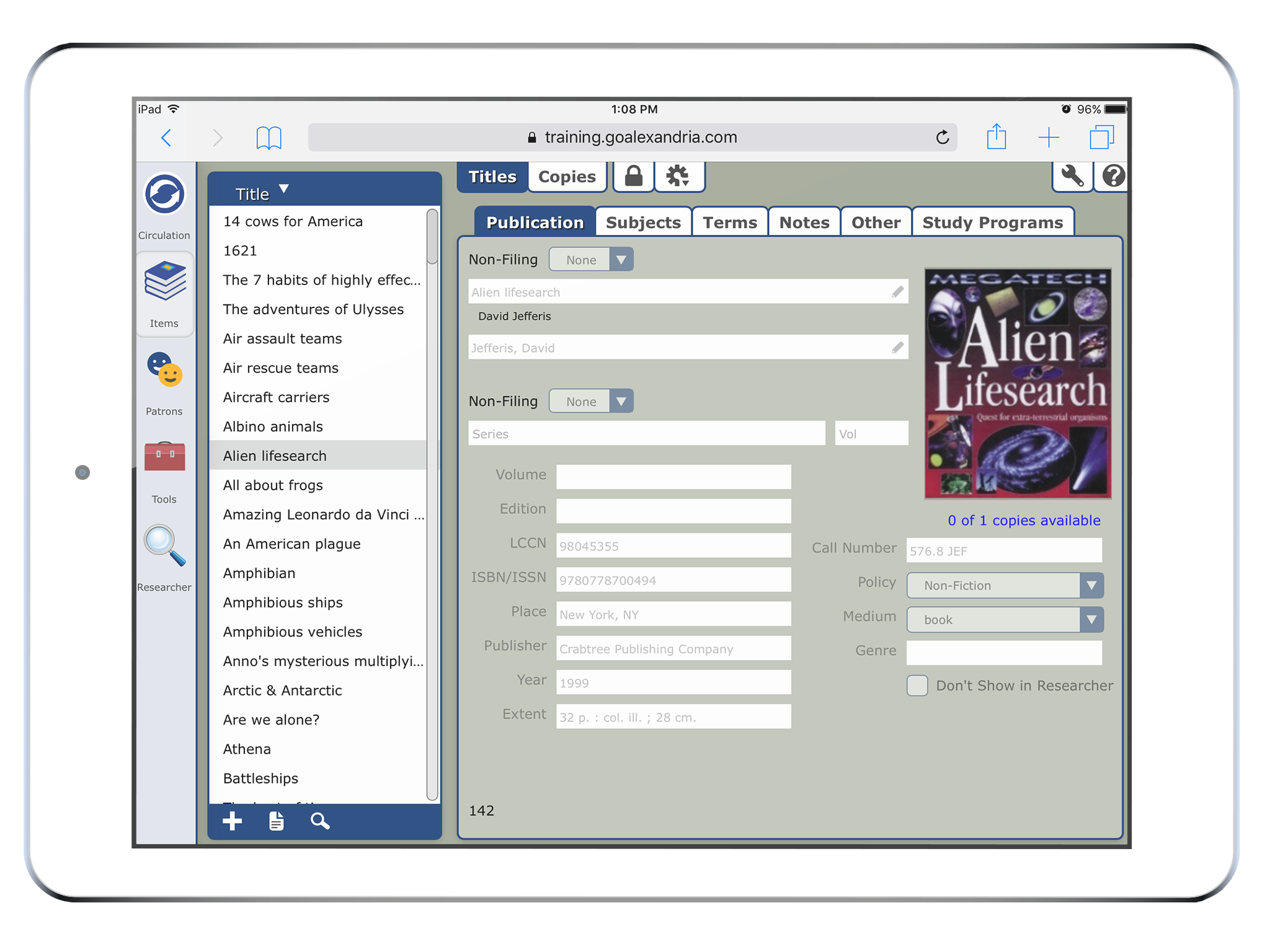 SIMPLE CATALOGING
---
We understand that cataloging can be a long, arduous task. Alexandria makes the challenge of cataloging simple with our integrated SmartMARC® technology, allowing you to obtain MARC records from multiple sources including the Library of Congress.
---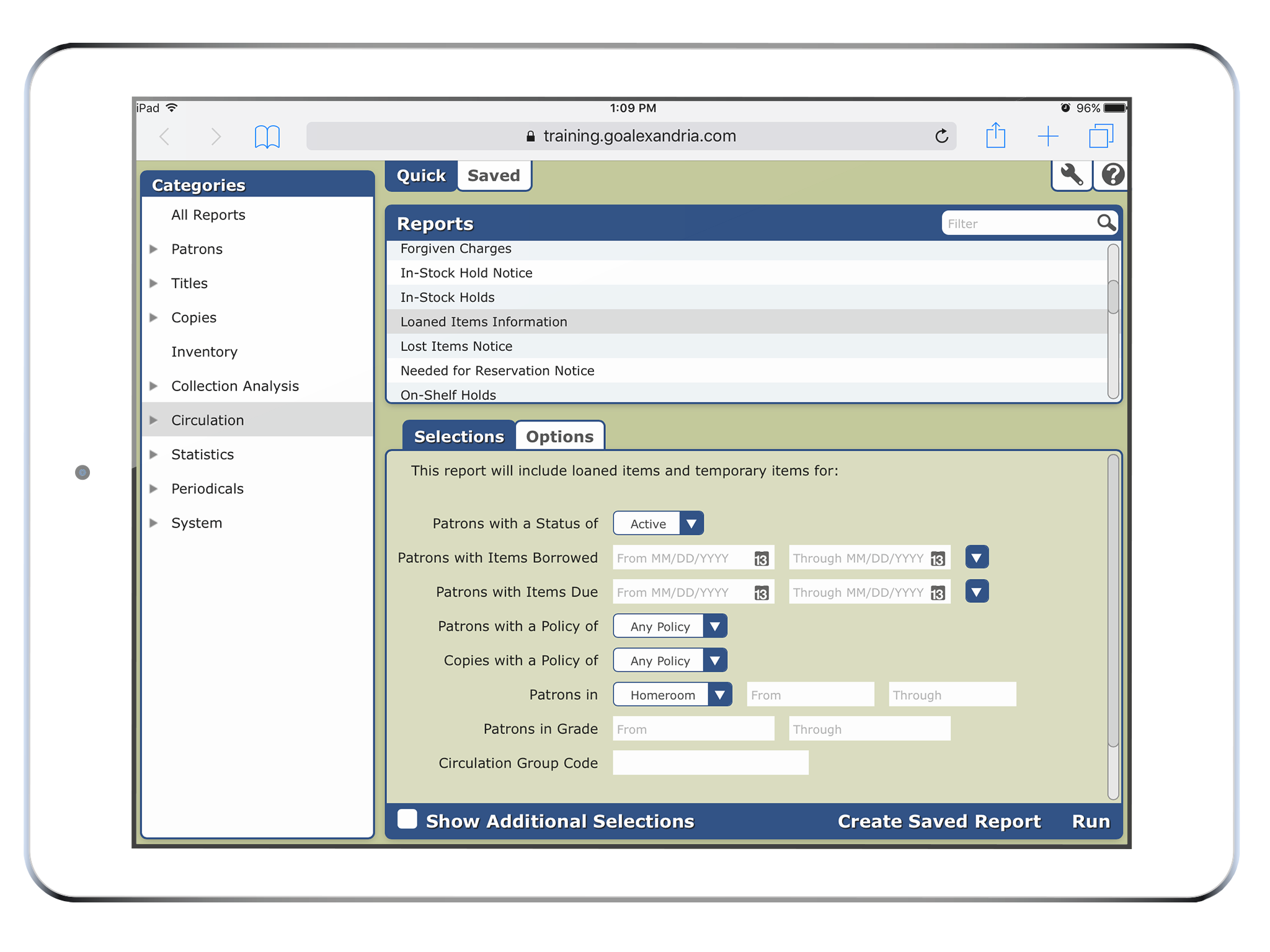 CUSTOM REPORTS
---
Our reporting module is all about set it and forget it. Rather than having to re-create reports, you can save time and do what is most important for your library. Alexandria's reporting module allows you to run the reports you want when you need them. Whether scheduling, or quickly trying to find out how many overdue books you have, Alexandria has you covered.
---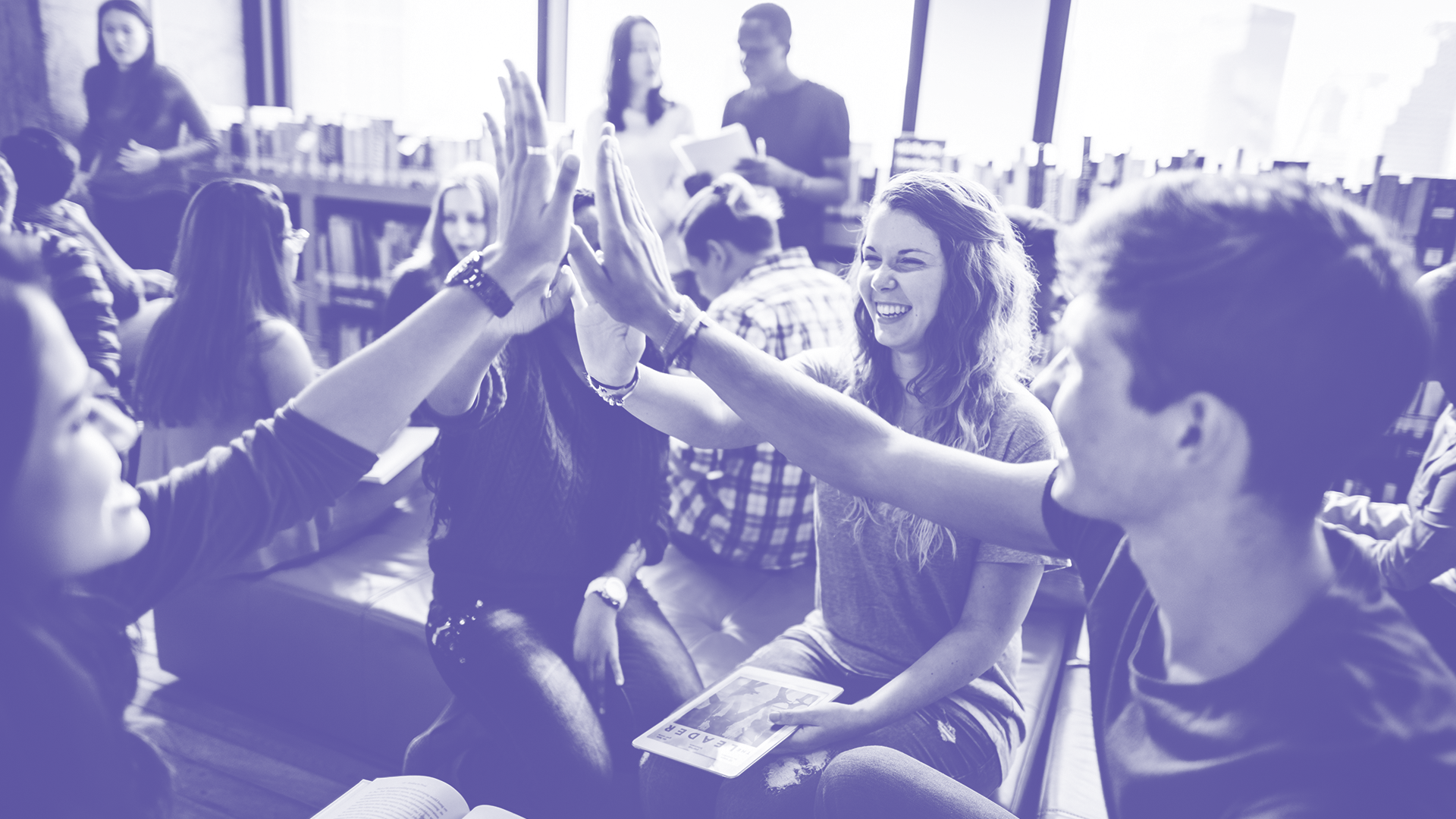 ---
WEB BASED - NO NEED FOR APPS
---
Imagine your library without limits - where you can complete your tasks in one place, and patrons don't need special apps to view your catalog or renew an item. If you're tired of using one app to circulate, a different app to view the catalog, and yet another app to run reports, Alexandria can help.
---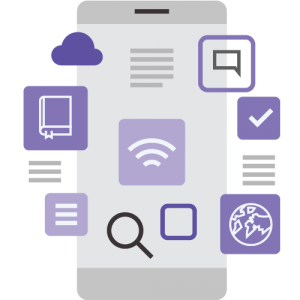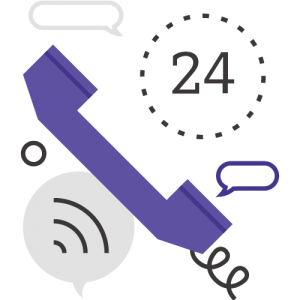 24/7 LIVE SUPPORT
---
No other library automation software has their own in-house 24/7 support team like we do. Our trained Alexandria experts are ready to answer your questions and solve problems day and night via phone or email. Anyone in your organization can call, any hour of the day, and ask a question on any topic.
---
PROMOTE CAMPUS EVENTS
---
Get students more involved in campus events with Bulletin Board. From sporting events to club meetings to special lectures, your library is the central hub of what's happening at school. Faculty can also create their own mini "class website" where they can post or store anything they can imagine - this year's resources, events calendar, class activities, personalized reading lists - their own virtual space!
---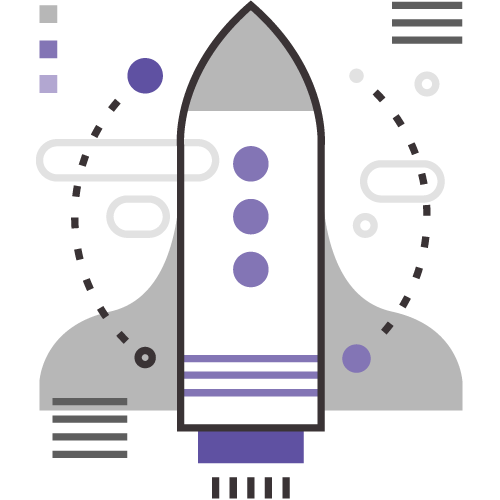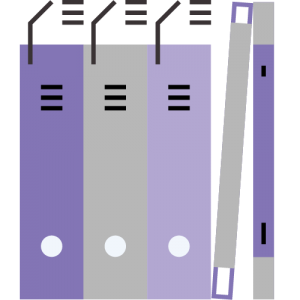 ---
REPORTS WHEN YOU DECIDE
---
Whether you need information on the fly or want to set up a structured schedule, you make the call when it comes to reports. Now you can have reports when you want them, not when it's convenient for your system. After all, library software is supposed to be all about automation.
---
SWITCHING IS EASY!
WE TAKE CARE OF THE HARD PART FOR YOU.
---
Librarians sometimes stay with software that doesn't satisfy all of their needs because the idea of switching seems too daunting. At Alexandria, we've made the process as simple as possible:
---
WHAT DO OTHERS SAY ABOUT OUR LIBRARY SOFTWARE?
This is the 7th year that I have used Alexandria for my K-8 school library. Great product, great price, and on the extremely rare times that I have contacted customer support, they have been super supportive and answered my questions quickly.

Our small private school, DPLAKids.com, loves this library program! We were able to set up our library (under 6,000 books) with ease and their tech support is always easy to talk with as well as work with!

Alexandria library software is wonderful for a large or small library. It covers all aspects of managing a library. The training and support offered by the company are excellent. We had a recent turnover in library staff and equipment. Alexandria support made that a very smooth transition for us.

Alexandria is a fantastic program with wonderful tech support when we really need it. I became a librarian by accident but soon learned that our small library had a great system that had been underutilized. With the help of tech support we soon had the library online and available to everyone! Students now teach new staff and parents how to use the online catalog. Student librarians are able to quickly navigate to whatever section of the system they need at the moment. Between the online help and the readily available tech support, we have had a wonderful experience with "Alex."

We are a very small school. What I like about our program is the cost, reliability, and the customer service. When I was learning how to work the program they were great to give me lessons. The program always works the way it should but the few time tech people messed it up changing it to a new computer they helped me fix it quickly.

We are a small college library. Alexandria has everything we need. It does take some time to figure out how the program works. However, after basic training, we have been able to figure out most things we need on our own. When we have contacted customer service, they are fantastic. They have done trainings, taken our calls, and emailed us promptly after we contacted them. We have appreciated their support tremendously.

I have used the Alexandria Program for at least 10 years now. I think it is an excellent program for a reasonable price. It has many features, so many, that I have to call Tech to remember how to use them all. I would recommend it to smaller schools that may have issues with monies available for Technology in Libraries.

I have been using Alexandria for 4 years. There is much you can do in the system from holding books for students, bringing up reports on late books by classroom, creating check out policies for different grades, and when there is an issue, contacting a service tech is easy and they will walk you through the steps to help fix the issue. There is so much... almost more than our small school needs. Overall, this has been a great system and my volunteers find it easy to check in and out books. I love being able to inventory the books online and create letters to go home.

I am in charge of the library at a very small Catholic school. I've been using Alexandria for a few years now. Other software was just too expensive for our tiny, almost non-existent budget. This is an affordable alternative.

The Alexandria system works fine for checking books in and out and the Researcher helps students find books. The system does read all the different barcodes in the library and it has many, many features that I am not using. Overall it is a good system for my small library.

A great small library software... Especially good with web hosting!

We started using Alexandria in 1998 when we needed to back up everything to flash drives. Last year we moved to the hosted version and have been completely happy with it. And as far as the daily functions of the program, it is extremely user friendly. I would call it streamlined compared to the other automation programs I've had my hands on.

Our small private school, DPLAKids.com, loves this library program! We were able to set up our library (under 6,000 books) with ease and their tech support is always easy to talk with as well as work with!

I can not live without your library system! My young middle school students enjoy the ease of helping students check in and out books, assist in locating books on the OPEC desktop computers, the reports are easy to manage and your personal service team is exceptional!!! Especially, your on-line tech services and sales department when I required new bar codes. Your program is a librarian's best friend... love you!

I have used Alex for my library since version 3 and I wouldn't use any other one! We chose it at the time because it was Mac compatible and because of the ease of use. It is still one of the most user friendly softwares that I have ever used. Our district tech guy wanted us to make a software change a couple of years ago and we all threatened mutiny if he made us change to a different product. I also think it has the best customer service people. We had upgraded our computers one summer and tech support worked with me until we figured out what was wrong and had me up and working.

Alexandria provides all the features of a large scale program for small libraries at an affordable price! Anything we can think of to help our patrons, the service center is willing to work with us and figure out.

Our school purchased Alexandria over 20 years ago and we have been happy with it ever since. We have combined multiple library catalogs when we built a new school and the transition was super easy. We upgraded to the hosted version and the only problem we have had is when our local access is down.

I switched from Follett to Alexandria about 7 years ago. I have been very happy. Customer support and tech support are both excellent. The updates are helpful and frequent. Reports, labels all library needs are well met. I would recommend Alexandria for your library software

This software is amazing. Love the hosted data. They have THE BEST tech answer line I have ever experienced. They are available 24 hours a day, 7 days a week, and they always have an answer. Thank you for making my life easier. I use Alexandria for a 22 campus school in California.

I automated my first library 23 years ago using Alexandria and have continued to update and use this great program. Other companies have tried to get us to switch but after trials we still end up back with Companion and Alexandria. Oh and if you do need customer support, which is rare, they are amazing.

I have been a school librarian for 29 years in the same school district. We started using Alexandria Library Automation Software about 21 years ago. I like it extremely because it is easy to use and even when the program is revamped, it is still easy to understand and remember the new principles involved. When I cannot figure out some reports for myself, the technology assistance department is prompt and courteous as they help. I would recommend this program to any librarian any field.

This was the first Automation system that our library use and we still are using it today, We started using it back in 1990.

We are a 5A independent school system with 10 schools, and Alexandria is perfect for us! We can do so many things with the students-- they can write and publish reviews within the software, they can put books on hold, they can even recheck their books online. There is a kiosk mode for self check out and self check in, and various security levels for the use of teacher, volunteers, and library staff. The reporting capabilities are great. Library tasks are easy to do in the software and the company emails me reminders for things like the start and end of a school year. Support is a just a quick phone call away if I forget how to do something. The tech support staff are always so kind and knowledgeable if I need to contact them. I recommend them highly.

Alexandria Library automation software is user friendly, convenient and a great tool overall. We enjoy many features of Alexandria including the helpful reports, flexibility of the utilities and ease of use for patrons. I have used other products for library automation in the past, but Alexandria is the best by far and I would highly recommend it to anyone looking for a new product.

We have been a long time customer of Alexandria. They have stable products, great support, and constant eyes on how to improve. We have been quite satisfied.

With Alexandria's unending features, there isn't anything you can't do. However, learning how to utilize all of these tools can seem daunting. I've had the best experience with their tech personnel every time I have called for the past 4 years. They're always able to help fix my issues within minutes, and normally teach me how to use something new. They're helpful, informative, and patient.

I have been using Alexandria for over 10 years. The software is easy to use and works very well. The customer service is incredible. The representatives are so willing to help me with any problems or concerns. I would recommend this library software to anyone.

I have used the software for many years now and have found it easy to use. Even my elementary students can use it! The tech support is the best around. The technicians are available 24/7 and will walk you through any questions -- with patience!

Every time I contact Alexandria they are always friendly and work towards the issue at hand. The circulation system is getting better and better as they make improvements. I really like the new version!

This is the 7th year that I have used Alexandria for my K-8 school library. Great product, great price, and on the extremely rare times that I have contacted customer support, they have been super supportive and answered my questions quickly.

I have used other software in the past, but I like this one the best. I am still figuring out all the features, but so far I am impressed.

We switched to Alexandria from the Athena library program. Customer service has been very helpful in taking the time to walk me though any questions that I have had. Thank you!

It is very easy to use. Great for adding new books to your data base. It works great with a large volume of check-outs. No problems that I have found .

The customer service and tech support at Alex is top notch. Even though they're a couple time zones behind us, they are always there to answer the phones and help solve a problem before out kids come running in the doors.

Customer service is phenomenal. Anytime I mess up they bail me out.

I love my Alexandria Library Automation Software. It is easy to use and the customer service is great!

Once you get the hang of the new format, it really is more user friendly than the old! I love the easy access to tools and items, etc down the left side. That is a great feature!

I have used several different library automation systems and I love Alexandria. It is easy to use and can do everything that I need it to do! I would highly recommend it to anyone looking for library automation software!

We are a small parochial school who chose Alexandria Library Software to bring us up-to-date and we LOVE it!! The transition took time at first, but has paid off immensely. We came from the dark ages with Alexandria!

I have experience with 4 different Library Automation platforms. Alexandria is my favorite in terms of ease of use, ability to tailor to specific library needs, and the ability to tailor reports. I have had wonderful experience with their support crew whenever I needed any type of help. Just a great company and product.

I have found Alexandria software to be user friendly with great technical support. Everything I need to catalog my library is at my fingertips and can be found quickly and easily.

Not only is the software easy to use, but their customer service is exemplary (in a world where this no longer exists) you can depend on them to not only answer the phone but to answer your problem or question.

I've been using Alexandria Library Automation Software for almost 15 years. The software is excellent and provides for many different reports that help me oversee our middle and high school libraries. The software has many functions and options to personalize your libraries. The support staff is excellent and has always helped me until my problem was resolved. I totally recommend Alexandria!

Alexandria is the best. If you ever have any trouble you just call them and they walk you through step by step.

As a new librarian using Alexandria for the first time, I really appreciate the customer service. They answer their calls promptly and have always been able to help me with my various questions. They never make me feel like I should know or are wasting their time. I like all parts of the system and my teachers appreciate what I can do for them by accessing the various functions.