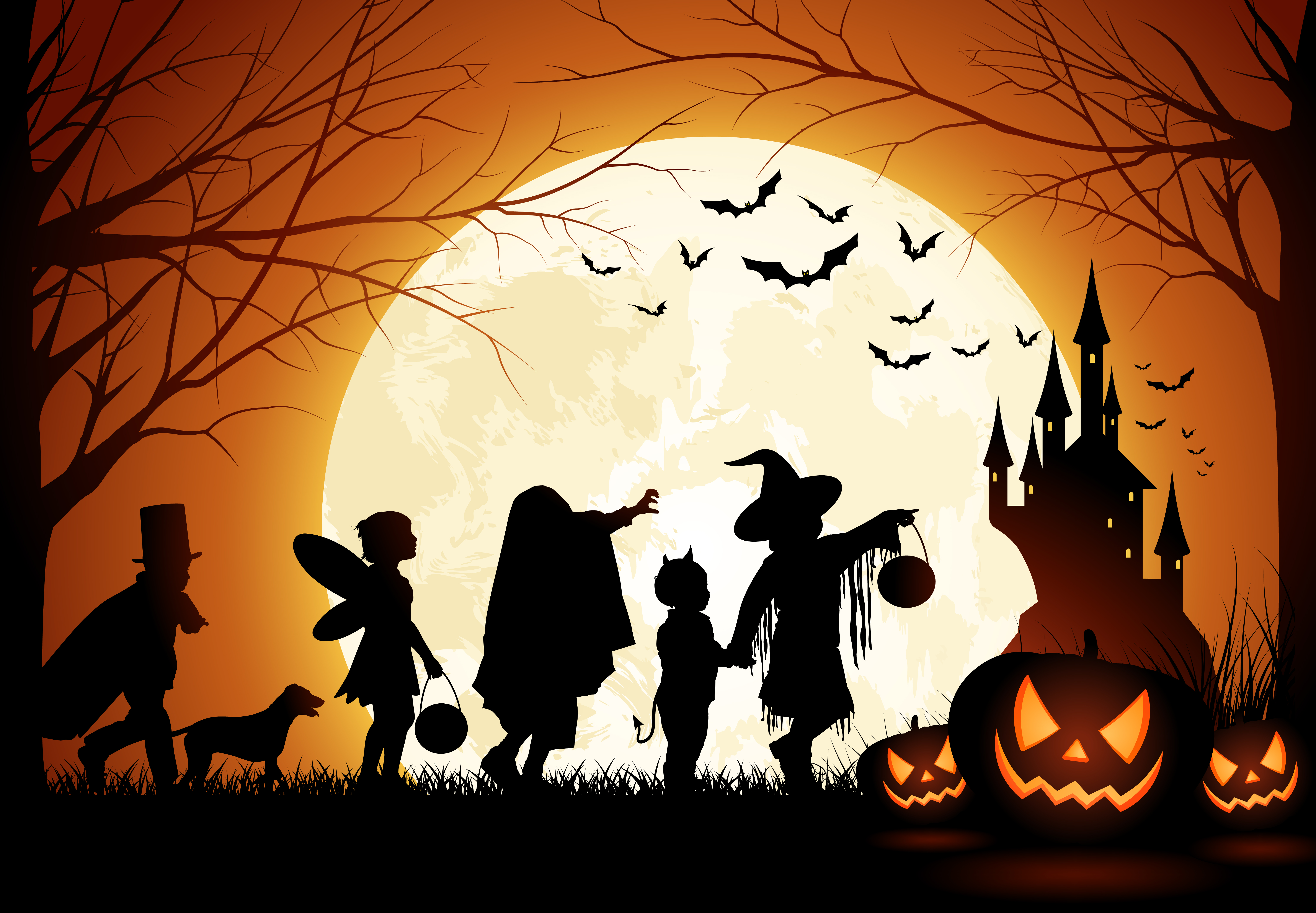 Kids love Halloween . . . and for a good reason. What other holiday is solely dedicated to giving out candy? All it requires is dressing up as their favorite superhero for a night and staying up way past their bedtime.
As an educator, you ought to use this fun holiday as a way to show students that learning can be fun too. Here are 7 spooky lesson plans that will engage your students this Halloween.
Skeleton Science
What is the funny bone, where is it located, and what is so funny about it? You don't know? Well, you might find out after spending a few days teaching students the names and locations of every bone in the human body.
Using a dummy skeleton, or a Halloween cardboard cutout, highlight a few bones each day. Discuss health-related topics like nutrition—how to build healthy strong bones—or human physiology—what muscles connect to the femur?
At the end of the week give your students a picture of a skeleton to color for a quiz or for fun.
Halloween Math
How do you buy a pumpkin? The sign at the store says it's only 38 cents. But when you get to the register it is over 3 dollars. Why? Because you buy a pumpkin using math of course!
Pumpkins are priced by the pound. Have your students do the math to calculate the price of different pumpkins. Have them weigh a variety of pumpkins with and without the guts. What's the difference? Measure the circumference of the pumpkins—how far around are they? Have them count the seeds.
See? Math is important. You can't even carve a jack-o-lantern without knowing it.
Spooky Story Time
Some of the best works of literature are scary stories. Why not use this month to enjoy a few? Have your students choose their favorite scary story to read and give a book report on it at the end of the month. Or read one together in class. Here are a few authors and books to choose from:
Stephen King
Edgar Allan Poe
Dracula
Frankenstein
The Twilight Series
Harry Potter
Hunger Games
Goosebumps
You can also have students create a scary story or poem of their own. Have them choose an author to style it after and read it aloud to the class.
Halloween History
Have you ever wondered about the history of Halloween? People have been celebrating Halloween since the 1700s. What originally began as a Celtic festival, Samhain, now pulls in over $2 billion dollars in candy sales each year in the United States.
This Halloween, give your students a history lesson about the origin and evolution of this unique day.
Creepy Crafts
Halloween is all about self-expression and creativity. Don't forget to include at least one lesson this month that allows your students to express their unique creativity. Set aside some time to paint or carve pumpkins, design and craft masks, or build a spook alley. Choose any creepy craft you like and let your students' imaginations run wild.
Rotten Recipes
If you teach home economics you and your students are in for a real treat this month. Finding Halloween-themed recipes is a piece of cake thanks to websites like allrecipes.com and apps like Pinterest. Choose a simple appetizer, such as this Eye of Newt recipe or go for a more complex dessert like these Spiderweb Brownies.
Whether the recipes are simple or complex, find some rotten recipes and begin baking.
Serious Safety Lessons
Yes, Halloween is a fun holiday, but it can also be a dangerous one. It's important that you  take some time to teach the importance of safety to students before their night out on the town. Here are a few tips to include:
Walk on sidewalks and use traffic signals
Children under 12 should trick-or-treat with adult supervision
Kids going alone should travel in groups
Bring a flashlight
Wear costumes that do not create additional safety hazards, such as masks that make it hard to see, capes that are too long, or pointed accessories
Avoid overly dark or dangerous neighborhoods
Don't eat any candy that looks like it has been tampered with
Wait to eat your candy until you get home and your parents have a chance to look it over
Avoid eating your entire bag of Halloween candy the first night you get it
Please note: there is a difference between being serious and being scary here. There is no need to ruin the fun of Halloween. Just provide some useful, logical safety tips to ensure your students have fun while also staying safe.
Have fun with whatever Halloween-themed lesson plans you choose. End the month with a costume parade or spook alley and enjoy the fun!