Summer has officially begun and soon we will be celebrating the birth of our nation. July 4th marks the 241st anniversary of the signing of the Declaration of Independence.
The event officially separated the original 13 colonies from the British crown and pushed the American Revolutionary War into full swing. Establishing a new nation is no easy task yet the colonists were willing to sacrifice life, as they knew it to become the land of the free. Here are some book suggestions for further reading: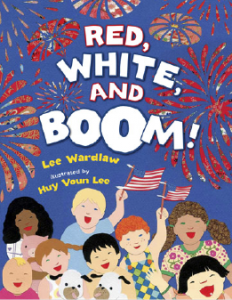 This poem style picture book highlights the activities and celebrations of the holiday. It's perfect for children who are developing their reading or poetry skills.
(Juvenile Fiction,  recommend ages 3-7)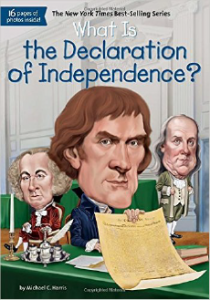 This book gives the reader an overview of what the Declaration of Independence is, how it was written and the events leading up to the Revolutionary War. It includes historical facts and a bibliography for further reading.
(Non-Fiction, recommended ages 8-12)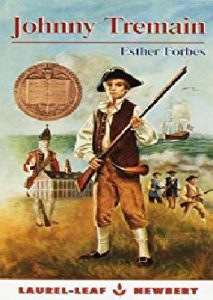 Johnny Tremain by Esther Forbes, Illustrated by Lynd Ward
This NewBery Medal award winning book follows the life of 14-year-old colonist Johnny Tremain during the 1770's. Johnny's story begins while he is a silversmith apprentice but an accident quickly ends his silversmith career changing the course of his life leading him to become a spy for the Sons of Liberty and fighting in the Revolutionary Way.
(Juvenile Fiction, recommended ages 11 & up)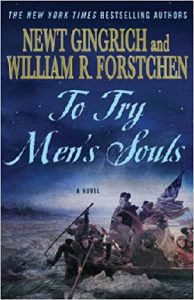 The first book in the Revolutionary War trilogy, former Speaker of the United States House of Representatives, Newt Gingrich writes about Washington leading his men across the Delaware river to the battle of Trenton. The story follows three men and the roles they played in history; General George Washington has his doubts about the battle ahead as morale has fallen low and hundreds of men have deserted their cause. Thomas Paine is overseeing the printing of his pamphlet, The Crisis, in Philadelphia, and Jonathan Van Dorn must decide if he will stay loyal to the cause or spare the life of his brother who has joined the British.
(Fiction, recommended ages 12 & up)
Do you have a favorite book for Independence Day? Leave a comment and share your thoughts!