Hello! I'm your Virtual Librarian.
Our commitment to library advocacy and student success now goes beyond our 24/7/365 Live Support. Our "Virtual Librarian" is actually REAL librarians, ready to meet with you virtually to enhance your skills, knowledge and abilities with Alexandria. In these personalized professional development sessions you'll learn how to create patron experiences without limits: engaging readers, supporting teachers, improving searchability, expanding access to you collection, and more!

WATCH A QUICK OVERVIEW
We pack a plethora of possibilities into a 30-minute video overview of the transformations available to your library from our Virtual Librarian!
Book Our ALL-IN ONE Professional Development Session Today!
AT A 30% DISCOUNT!
Just use the code "ALL4ONE30" at checkout!
ALL-IN-ONE
This session includes all of the individualized professional development sessions shown below in a multi-session, full-course format!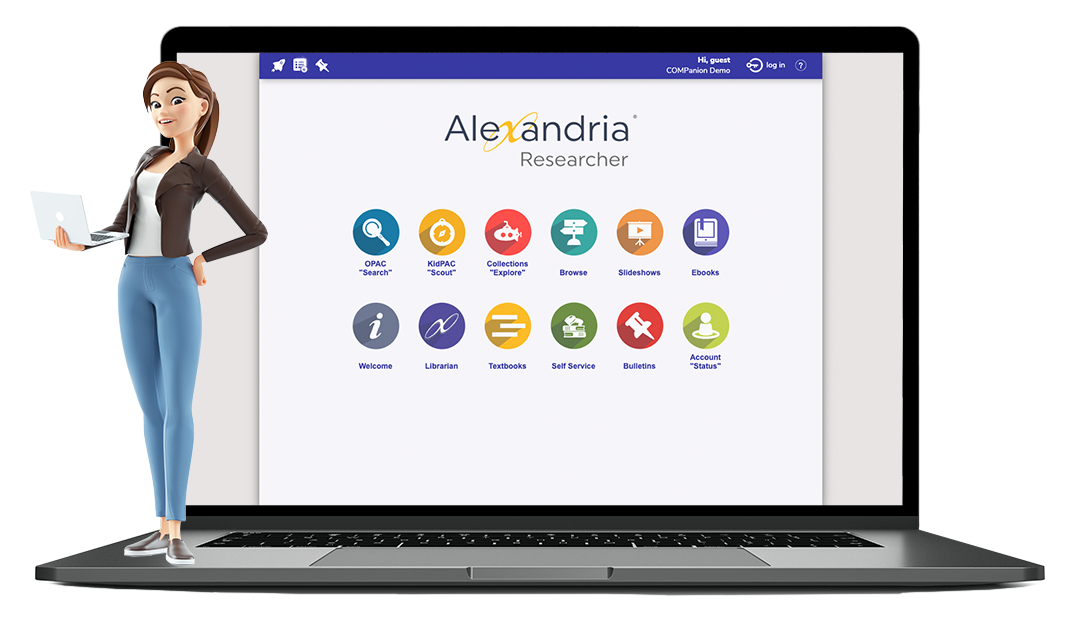 Includes ALL of these AMAZING SESSIONS!
ALL RESOURCES IN ONE PLACE
SEARCH
We all have those links that schools use every day. Learn how convenient it is to share your most beneficial resources with your entire school or district! Add 16, 32, or even more! See how easy it is to bring students inside the library to fully utilize your resources. Students benefit from key links like eBooks, Tech Tools, ALA Award Winners, Staff Book Picks, Gale, Citation aids, Curriculum add-ons, Rubrics, NatGeo—too many to list, but you see what we mean.
SLIDESHOWS
We have all experienced the mundane task of creating slideshows one at a time, but not anymore! In this session, you will learn the best uses for our predefined Slideshows as well as how to CODE an unlimited amount of Slideshows to do even more! Discover how to shift hours of work into just minutes – including how to create Explore panels or Bulletin Boards that share your results!
FULLY CUSTOMIZABLE, UNLIMITED
EXPLORE
As a Librarian, Explore helps me do more. When we say that Alexandria is "Your Library Without Limits", Explore proves it! This session teaches you how to create custom patron experiences that can help achieve reading goals through strategic "clickables" to Bulletin Boards, Teachers Guides, eBook publications, Slideshows, award-winning books, or series in library or your whole library collection. Really, anything you need to connect students to curriculum can be added to Explore!
LINKS, LESSONS, ASSESSMENTS
BULLETIN BOARDS
Bulletin Boards can be mini book displays, curriculum connection spaces, or even a place to gamify reading experiences. Discover how easy it is to provide Bulletin Boards for a variety of curriculum needs! Explore examples of "CHOICE & VOICE" Boards, Tech Boards, Picture Book Read-Alouds, library welcomes pages, gamification or first-chapter challenges that inspire reading "beyond the book!"
BROWSE
Browse supports our mission of helping you Library Your Way. Learn how to control the organization in your library and keep it under control. Decide what is included in your 655_MARC records and what gets written in on the GENRE. Edit as needed, and keep your library super organized and readily accessible for teachers and patrons alike. See a publishing-, series-, three-digit Dewey method used in five libraries now, and decide what is right for your library and district. We will also discuss how making two simple shifts, making the right reading materials available to students who need them, will improve reading districtwide!
CURRICULUM AIDS
Every resource circulated in Alexandria can be boosted by providing great connections to online materials that make book reading experience even better! You can connect picture books to read-alouds, link YouTube videos that enhance lessons, have click-through assessments on certain books the district uses for book clubs, add online games, activities, and so much more! We think you will really love learning about the power in adding links to Curriculum aids!