Your Search Without Limits
In less than 10 minutes, let us show you a NEW powerful search technology that enables your students to search, discover and engage with all your library resources for personal reading, assigned reading, homework and classroom support materials all in one place!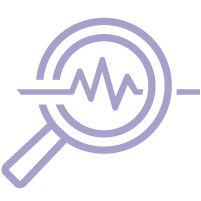 FULL-TEXT SEARCHING
Alexandria® Navigator uses artificial intelligence (AI) to create a real-time, full-text search tool that integrates all your databases into a single discovery portal. Navigator queries are metadata independent and allow for unlimited keywords, providing the power for Navigator to aggregate information from the smallest to largest institutions around the globe.
REAL-TIME SEARCHING
| | |
| --- | --- |
| ➤ Alexandria® | ➤ Subscribed Information Service |
| ➤ Repositories | ➤ Databases in Perpetuity |
| ➤ Open Access | ➤ Newspapers |
| ➤ Magazines | ➤ Journals |
| ➤ Catalogs | ➤ eBooks |
OVER
100,000

USERS SEARCHING IN REAL-TIME!
Artificial Intelligence
Alexandria® Navigator works without the need for metadata. There is no need for librarians or publishers to send metadata or any information to find up-to-date information. Our platform uses artificial intelligence to perform real-time, full-text querying of publications as they are made public, regardless of the size of the information service; whether it is a catalog, repository, open access or subscribed platform.
Confidence in Results
Alexandria® Navigator does not represent any type of content. All queries are unbiased and maintain the same amount and order of results as the native platform. You can trust Navigator's results to be the most relevent, most up-to-date and the most useful, independent of the source.
Alexandria® Integration
Metadata Independent
No Keyword Limits
Real-Time Searching
Mobile Responsiveness
Simple, Remote Installation
Link Resolver
eBook A-to-Z Listings (FREE)
Journal A-to-Z Listings (FREE)
Publisher Agnostic Rankings
Includes Open Access Content
Remote IP Proxy, VPN Access
Real-time Usage Analytics
Morphological Analysis
Oh, the Places You Will Go!
Alexandria® Navigator can aggregate databases from local, regional to major international publishers. Our platform locates articles by searching full-text articles and metadata provided by the publisher in real time.